Red or Green - TogetherNM
Ad campaign promoting COVID testing throughout the State of New Mexico.
Challenge
As COVID-19 cases were on the rise, the State of New Mexico needed a campaign to promote COVID testing in every community. At this point in the pandemic, the public had grown weary of COVID guidance and was not responding to general health guidance.
Solution
Using a common question every New Mexican wrestles with, a campaign was created around our common love and pride of chile. Encouraging testing and moving close to green, meant communities were safe and could remain open.
Results
New Mexicans stepped up and testing numbers increased. As a result communities were not shut down and moved towards lower transmission rates. 
For the first year of the COVID-19 pandemic, fewer things were more important than people testing, answering the call of a contact tracer, and practicing COVID safe practices like wearing a mask and staying six feet apart. After months of living within the pandemic the public grew weary of COVID health messaging and were beginning to tune out. The messaging and creative for the Red to Green campaign was built to tap into one aspect of our community pride to better resonate with the local population. Below are a few of the highlights of this campaign.
Services Used
Marketing, Advertising, Social Media
Creative Production
Website Design
Integration
Cloud Services
Directories
Messaging
Creative produced in partnership with our creative partners.
Campaign Landing Page
A campaign landing page was crated on the TogetherNM.org website. On the landing page, the "Red to Green" framework put together by the New Mexico Department of Health was explained with live updates of county positivity rates.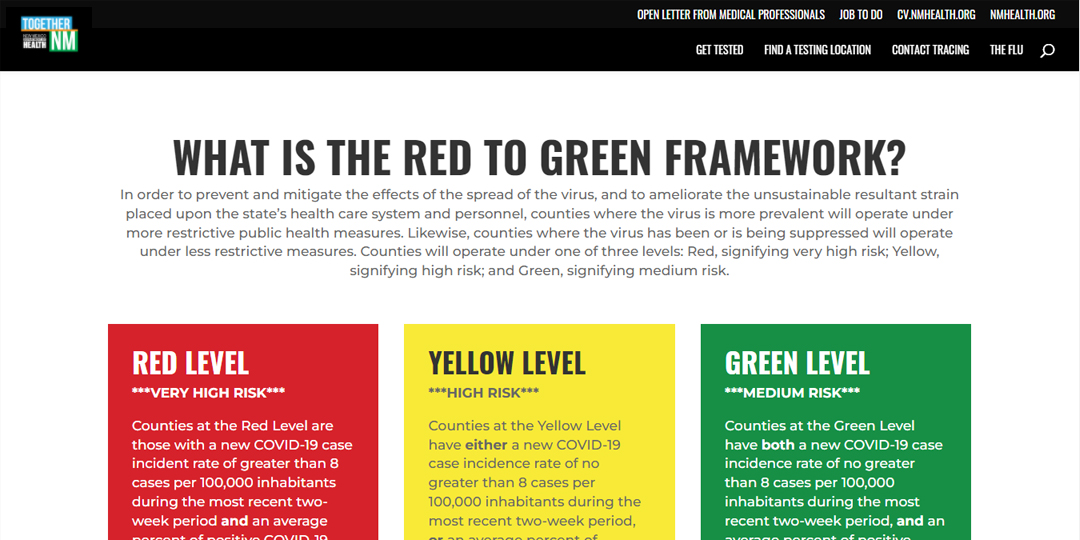 Spanish Versions
As New Mexico is a minority majority state, it is important that all messaging speak to our Spanish speaking population.
Traditional & Digital Creative
A combination of traditional and digital media was used to garner the highest impact. Traditional media is a great tool to increase your messaging exposure. With traditional media you are able to reach a larger population across diverse demographics. By adding a digital component to the campaign, we were able to highly target the audience to ensure high visibility among all New Mexicans. Here is an example of the newspaper ads that ran statewide.