Trusted Voices
Grassroots ad campaign promoting COVID-19 Vaccine through a mosaic of trusted voices throughout the State of New Mexico.
Challenge
As COVID-19 vaccines were rolling out in the State, the public began to question whether or not they would take the vaccine. The Department of Health requested a campaign to address the challenge of reaching people who may be hesitant to get vaccinated or find it difficult to obtain a shot.
Solution
The Trusted Voices campaign was launched. We organized and recorded neighbors, colleagues, and friends and asked them to share their experiences with COVID-19 and the vaccines.
Results
97 videos, with participation statewide, were recorded, edited, and promoted to encourage all eligible New Mexicans to get the vaccine. The campaign garnered national attention and continues to be an effective messaging tool to the vaccine hesitant.
The most powerful voice against this pandemic is yours. Your neighbors, colleagues, and friends have shared their experiences with COVID-19 and the vaccines. This campaign captures what they have to say. The Trusted Voices grassroots effort found trusted community members throughout New Mexico to share pandemic response messages with their audiences via social media. Listen to the voices of people you trust; those who understand you, your community and your lifestyle. Here are a few highlights from this campaign.
Services Used
Marketing, Advertising, Social Media
Creative Production
Website Design
Cloud Services
Creative produced in partnership with our creative partners.
A Mosaic of Voices
From doctors and nurses, to musicians, to public officials, to business owners – a whole myriad of voices was captured to encourage the state to get the vaccine.
Campaign Landing Page
A campaign landing page was crated at TrustedVoicesNM.org. On the landing page, the public was encouraged to watch the videos, get involved, and upload a video of their own.
Community Engagement
New Mexicans were encouraged to get involved by recording a Trusted Voice vide of their own, record a radio public service announcement, or write an Op Ed for their local newspaper.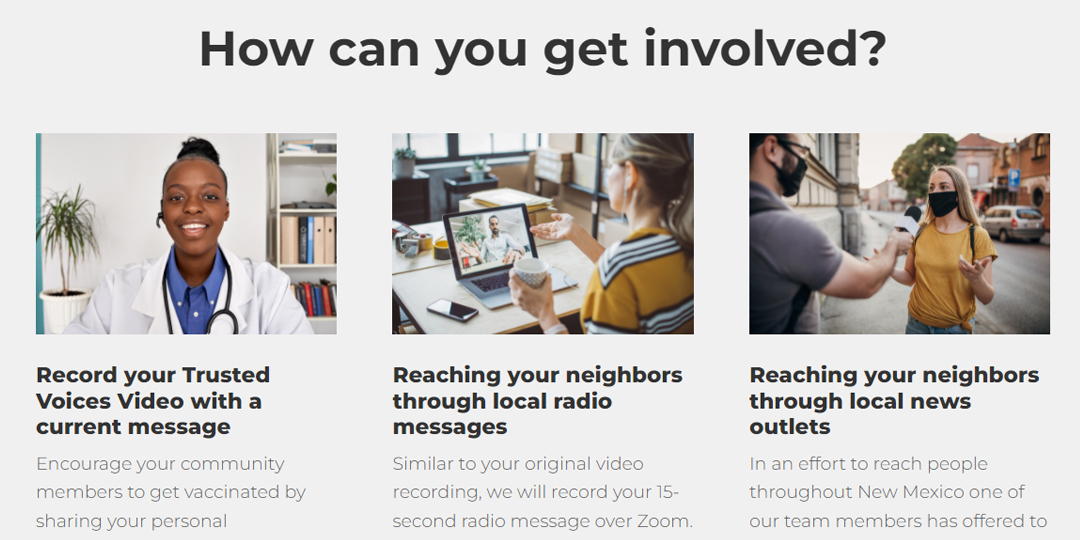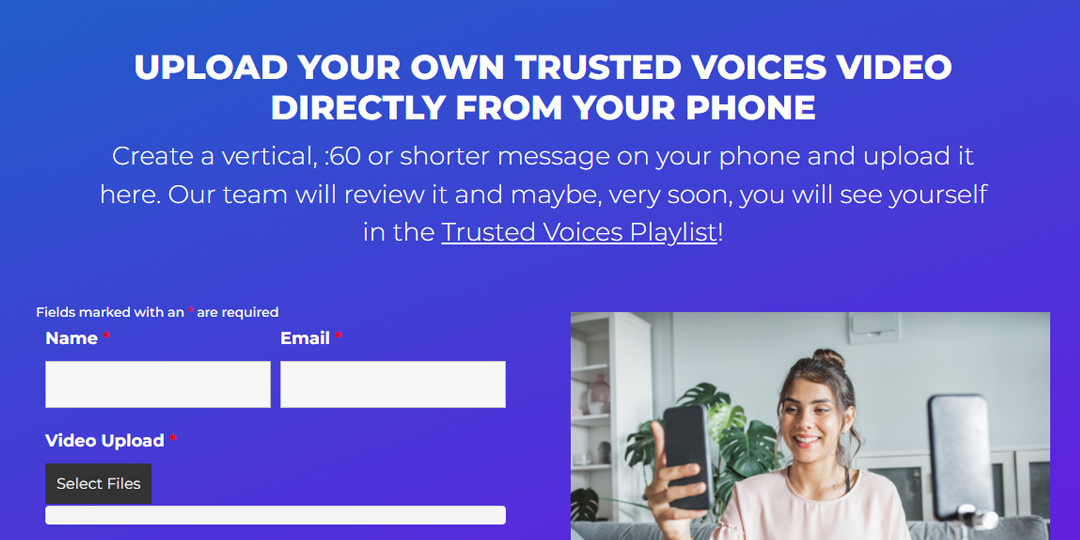 Video Upload Feature
Create a vertical, :60 or shorter message on your phone encouraging your community members to get vaccinated. Our team reviewed all submitted videos, and the ones that were approved made it to the Trusted Voices Playlist.